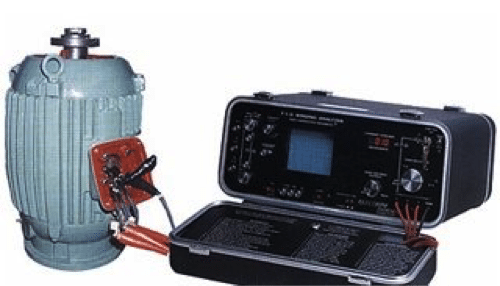 We often have customers send in a motor that "has been running fine but just needs bearings" and return a report to them stating that their motor needs to be rewound or replaced. This is often taken as an attempt by the repair shop to get something extra out of the customer that really isn't needed. The facts are often misinterpreted and the whole testing process is considered by some to be guess work at best, some sort of scam at worst.
The truth is that there are several tests that can be performed by a quality repair shop but the surge test is the one that is most misunderstood and yet the most telling of them all. A properly applied surge test begins with testing the winding for resistance with the meg-ohm meter function of the test console. Many times the winding may be wet which causes a grounded condition to occur. This can lead to premature starter trips and faults to show up on VFD's. Simply baking the motor stator for a few hours can dry the winding and allow further testing to resume.
The hi-pot or high potential DC voltage test applies up to 1000 DC volts to the winding and measures current leakage across the insulation. The next test performed should be the surge test where a specific voltage is applied to each phase of the winding. The voltage is typically about 2000 volts for 480 volt motors. This test will detect turn-to-turn shorts, coil-to-coil shorts and phase-to-phase shorts. All of these shorts can exist to a certain extent and the motor still be running "fine" as witnessed by the customer. This is where the confusion comes in when they're told their motor is "bad".
Since testing is performed at a much higher voltage than the motor see during standard operation, it is understandable that the faults may not be showing up at the lower operating voltage. The whole point of testing is to subject the winding to industry standard voltages to prove or disprove insulation integrity. If the motor fails these tests it doesn't mean that the motor will not run. It simply means that the insulation is weaker than it should be and the motor will eventually fail because of this.
In the end it's better to know ahead of time that a motor is potentially not 100% than to wait until that motor fails at the worst possible time. Proper testing by a quality repair shop can help you spot these problems before they cause you unplanned downtime and added expenses. Let your EASA repair shop help you keep your motors in top running condition through tests such as these and many more.